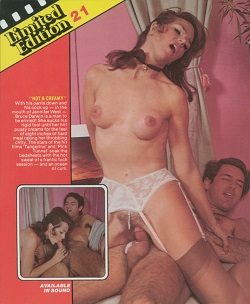 Limited Edition 21 – Hot & Creamy. Limited Edition 8mm hardcore sex film, featuring Jennifer West and Bruce Darwin. Limited Films. US produced and published loop.
Twosome sex. Sexy girl. Mature. Brunette. Hot body. Hairy pussy. Blowjob. Sex from behind. Straight sex. Facials.
Two versions available.
With his pants down and his cock up in the mouth of Jennifer West – Bruce Darwin is a man to be envied! She sucks his rigid tool until her hot pussy creams for the feel of eight inches of hard meat raking her throbbing ditty. The stars of the hit films 'Tangerine' and 'Pink Tunnel' soak the bed sheets with the hot sweat of a frantic fuck session – and an ocean of cum (box description).
Size: 199Mb
Type: mp4
Duration: 00:08:57
Resolution: 640 x 480
Size: 242Mb
Type: avi
Duration: 00:07:26
Resolution: 854 x 480