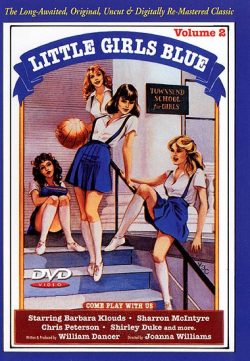 Little Girls Blue 2 (1983). Directed by Joanna Williams.
Featuring Lori Blue, Kathleen Kristel, Elaine Wells, Shirly Duke, Carl Lincoln, Kevin James, Bill Buck, Herschel Savage, Dusty Dreams, Frank Buffdurm, Lisa Waller, Linda Filler, Maggie Sinclair, Trisha Ingle, Michael James, Doria Manson. US produced, 1983.
Classic, adult feature film, hardcore sex. Good video quality.
Released for the summer from the confines of a strict boarding school, a bevy of young finishing school lovelies are transplanted to a summer camp full of randy counselors and shady thickets perfect for brushing up on human anatomy and comparative sexual analysis. The sex is sleazy, free, fast and loose, and brings back a time when the only people who even thought of using condoms were those whose girls weren't on the pill. Fun and really erotic, this pic has just about everything going for it, including the seldom-seen but fabulous Barbara Klouds, this is far and wide agreed to be some of her best work. A timeless piece of carnal filmmaking.
Size: 781 Mb
Type: avi
Duration: 01:20:29
Resolution: 576 x 432