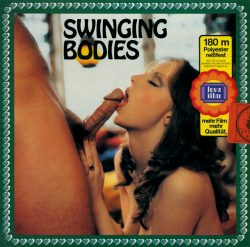 US produced film, German published loop. Love Film 706 – Swinging Bodies. Featuring Mai Lin, Misty Regan, Phaedra Grant and Robin Everett amongst others. Love Film Programm. Classic, 8mm Film, Sexy Girls, Mature, Hot Body, Interracial, Blowjob, Hardcore Sex. With audio. Good video quality
Film footage is part of adult feature film "The Love Machine (1983)".
At San Francisco, a syndicate lends hard dollars. But the house of the syndicate is full of moist cunts. No wonder that the cash carrier cracks into every tail by his hard, ever standing cock. The guests of this noble house, too, slip their pricks into every opened cunt a lot of which being there. Ecstatic women doing it incessantly with hot cocks. Sensuality that's catching.
Size: 302Mb
Type: mp4
Duration: 00:20:41
Resolution: 640 x 480