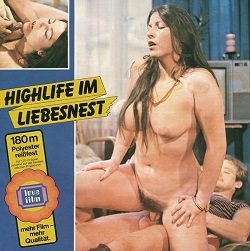 Love Film 714 – Highlife im Liebesnest. Super 8mm vintage color sex loop – Love Film – 180 meter. Love Film Programm. Highlife in the love nest. Germany published. Sexy girls. Mature. Busty. Big tits. Hot body. Hairy pussy. Blowjob. Straight sex. Lesbian.
Film footage is part of adult feature film: "Im Liebesnest der Hippiemädchen (1980)".
Two versions available.
Size: 419Mb
Type: avi
Duration: 00:25:34
Resolution: 640 x 480
Size: 603Mb
Type: avi
Duration: 00:26:06
Resolution: 854 x 480