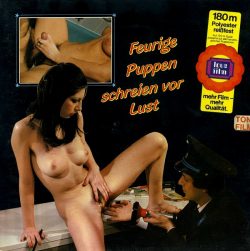 Love Film 719 – Feurige Puppen Schreien Vor Lust (better quality). German published super 8mm hardcore sex film, with audio. 180 meter. Color sex film footage, featuring Fatima amongst others.
Classic, 8mm film, sexy brunette girl, secretary, hot body, office settings, hairy pussy, blowjob, hardcore sex. Good video quality.
DOLLY BIRDS SCREAM WITH LUST! Three beautiful, young girls – two of them in exquisite underwear – and two rampant men make up a remarkable fucking quintet. The elegant office looks more like a brothel than a bureau. The boss fucks the horny secretary on his desk – the attractive cleaning girl is being screwed in the bathroom. Porno action in all variations and a crazy-hilarious framework story. You ought to see this film!
Size: 321Mb
Type: mp4
Duration: 00:16:59
Resolution: 640 x 480