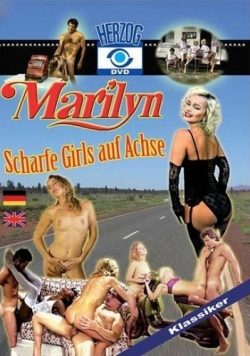 Marilyn Scharfe Girls auf Achse (1985). Herzog Video. West Germany published, 1985. Film directed by Michel Lemoine.
Featuring Olinka, Abigail Francoise, Laura Clair, Maria Granada, Marianne Aubert, John Oury, Gabriel Pontello, Andr' Kay, Antony Ray, Pierre Martinelli, Pjotr Stanislas.
Also known as:
– Jouissances à domicile
– Marilyn – Scharfe Girls auf Achse
– Marilyn und ihre hürigen Girls
– Mobile Home Girls
– Mobilehome Girls
After partying with male clients Olinka takes her girls on a busman's holiday to Italy. After a girlie session on the way and taking on the first client in a public town square, they park discreetly in the country.
Marianne is sent into town with a sandwich board offering: 'Unforgettable hours in a caravan. Come visit us. 100% discretion guaranteed etc…' There, she meets an ex-boyfriend on holiday with his father and they revive their relationship by a swimming pool. Meanwhile Pontello's wife is having her way with a barman at the hotel.
Eric visits the caravan and lays Olinka and Françoise over his scooter to sample their goods. Then Gabriel enjoys Maria and Françoise. Marianne quits hooking and goes off to Venice with the boyfriend. Olinka, Maria, Françoise, Gabriel, Eric and John party on at the caravan.
An unusually long film for the 80′s, but not a moment is wasted. A classic to cherish. The sex is outstanding
Size: 1.14Gb
Type: mkv
Duration: 01:50:02
Resolution: 700 x 464