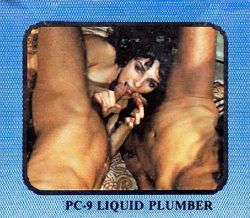 HD Platinum Collection 9 – Liquid Plumber. Classic 8mm sex film, featuring Marlene Munroe, Blair Harris and Mike Horner.
Platinum Collection PC 9 U.S.A. produced and published sex loop.
Threesome sex, Mature girl, Brunette, Small tits, Hairy pussy, Sexy ass, Blowjob, Straight, Facial.
#9 Liquid Plumber. Two handsome plumbers arrive to fix a leaking faw-cet, but instead the woman of the house unleashes herself; until the men explode on her, together!
OUR PLATINUM COLLECTION CAPTURES THE MOST EXCITINGLY SENSUOUS MEN AND WOMEN IMAGINABLE.
EXPLICIT CLOSE-UP'S, SENSUAL LIGHTING, CONSTANT ACTION … ARE JUST A FEW OF THE UNEQUALED STANDARDS DESIGNED TO BRING YOU THE ULTIMATE IN HOME ENTERTAINMENT!
Size: 205Mb
Type: mp4
Duration: 00:06:54
Resolution: 1024 x 768