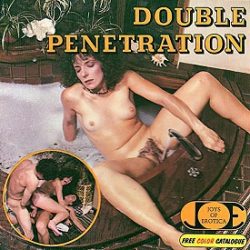 Pleasure Production 2030 – Double Penetration. Classic color sex loop, featuring Marlene Munroe, Bobby Astyr and unknown guy.
US produced and published, 1980s. Threesome sex (2f, m).
Classic, 8mm sex film, Mature girl, Hot body, Hairy pussy, Blowjob, Sex from behind, Double penetration, Anal, Straight sex.
#2030 Double Penetration. Laura gets carried away in her luxurious bath and gets off by jamming We faucet up and down inside her hungry pussy.
Outside, Dan and Larry, he young horny neighbors drop on her jerking off and get right in on the action.
Laura sucks both stud's meaty cocks and is rewarded by having both engorged hard-ons fuck her once; one up her cunt and one up her tight ass.
Size: 188Mb
Type: mp4
Duration: 00:08:37
Resolution: 768 x 576