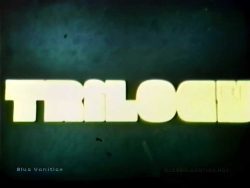 Raffaelli F-645 – Trilogy. Three loops in one, only first part available.
Raffaelli 8mm sex loop, USA produced. Featuring Paula Wain and unknown girl.
Sexy girls, Costumes, Outdoor sex, Twosome, Hairy pussy, Small tits, Pussy licking, Lesbian sex.
1. In a secluded, sunlit forest, 2 lovely Victorian ladies meet for a secret rendezvous. In the heat of their passion they shed their delicate, lacey gowns. Breathless kisses give way to bold probing with fingers and tongues as they caress deeply into each other's vaginas.
2 (not available). A beautiful, exotic harem girl masturbates freely as she dreams of a powerful lover. From a cloud of smoke, a passionate Genie appears in answer to her prayers. She takes his massive erection into her mouth, swallowing again and again his throbbing pleasure-probe, until their explosive climax ends the fantasy.
3 (not available). Ann and Andy, two well-known dolls, come to life to sample the world of sexual pleasure. Getting a clever idea, Ann anoints Andy's erect penis with a cream-pie, then using her moist, soft lips & tongue, licks and sucks away every drop of cream!
Size: 154Mb
Type: mp4
Duration: 00:06:06
Resolution: 768 x 576