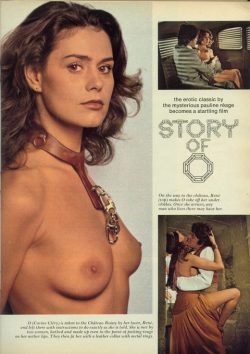 The Story Of O (1975). AKA The Story Of O, Histoire D'O. US produced adult feature film, 1975. Directed by Just Jaeckin.
Featuring Corinne Cléry, Udo Kier, Anthony Steel, Jean Gaven, Christiane Minazzoli, Martine Kelly, Jean-Pierre Andréani, Gabriel Cattand, Li Sellgren, Albane Navizet, Nadine Perles, Laure Moutoussamy, Henri Piégay, Alain Noury.
Adult feature film, Classic, Erotic, Drama.
The beautiful O is taken by her boyfriend, Rene, to a bizarre retreat, where she is trained in bondage and sexual perversion. Rene discharges a personal debt by transferring possession of O to his step-brother, Sir Stephen…
Size: 942Mb
Type: mp4
Duration: 01:44:46
Resolution: 1280 x 720