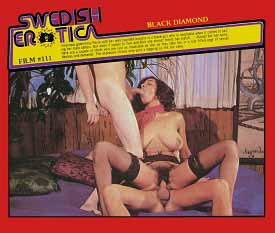 Swedish Erotica 111 – Black Diamond. Color sex loop, featuring Joey Silvera.
Swedish Erotica 8mm loop series. U.S.A. produced, 1970s. Threesome sex (1 girl – 2 guys).
Sexy girl, Black model, Interracial sex, Living room settings, Hairy pussy, Blowjob, Straight sex.
* AKA Danish Hard-Core 549
111 Black Diamond. Vivacious glamerous Paula with her well rounded breasts is a black girl who is insatiable when it comes to sexing her male callers.
But when it comes to Tom and Dick she almost meets her match … Almost but not quite.
Here are a couple of studs who are just as insatiable as she, as they take her in a lust filled orgy of sexual desires and demands The explosive climax only puts a topping on the sex cake.
Size: 170Mb
Type: mp4
Duration: 00:08:14
Resolution: 768 x 576