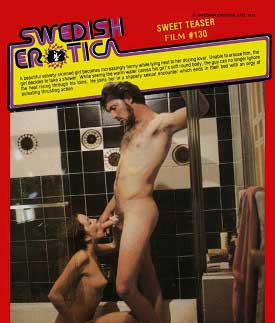 Swedish Erotica 130 – Sweet Teaser.
Swedish Erotica 8mm hardcore sex loop, featuring Elaine Wells. US produced film, 1978.
Twosome sex (f, m). Sexy girl, Shower, Hot body, Hairy pussy, Blowjob, Straight sex, Facial.
* Second version: Sweet Teaser
130 Sweet Teaser. A beautiful velvety-skinned girl becomes increasingly horny while lying next to her dozing lover.
Unable to arouse him, the girl decides to take a shower. While seeing the warm water caress his girl's soft round body, the guy can no longer ignore the heat rising through his loins.
He joins her in a slippery sexual encounter which ends in their bed with an orgy of pulsating thrusting action.
Size: 229Mb
Type: mp4
Duration: 00:07:58
Resolution: 768 x 576