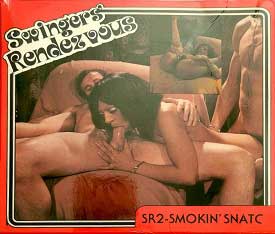 Swingers Rendezvous 2 – Smokin' Snatch. US produced 8mm sex loop series.
Swingers Rendezvous hardcore sex film, 1970s. Featuring unknown black girl, unknown black guy and David Ruby.
Threesome, Interracial sex, Mature girl, Hairy pussy, Blowjob, Straight sex, Group, Facial.
2 Smokin' Snatch. Two studs get together with a hot little piece. This chick is so hot she lights up her tits with matches.
One of the guys offers her a cigarette and she smokes it-in her cunt! Then this hot little bitch takes four fingers up her steaming hole while sucking the other guy.
She sucks the white guy 'til he unleashes a torrent of cum on her face. Then the black dude fucks her.
When he cums she laps up all his jism.
Size: 173Mb
Type: mp4
Duration: 00:07:37
Resolution: 768 x 576
Size: 212Mb
Type: mp4
Duration: 00:07:25
Resolution: 768 x 576