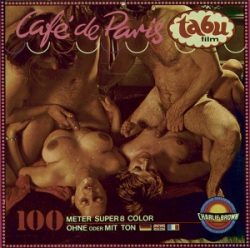 Tabu Film 77 – Cafe de Paris. Tabu de Luxe film series. Super 8mm color hardcore sex film, featuring Claude Janna, Françoise Beccarie, Liliane Lemieuvre, Cyril Val and Daniel Berton. Germany published.
Sexy girls, mature, hot body, group sex, living room, big tits, brunette, hairy pussy, blowjob, hardcore sex, facial. With audio. Good video quality.
With French flair and 69 position plus, invite You three harlots to their salacious sexual debauchery.
Previous version: Cafe de Paris
Size: 316Mb
Type: avi
Duration: 00:12:54
Resolution: 640 x 480