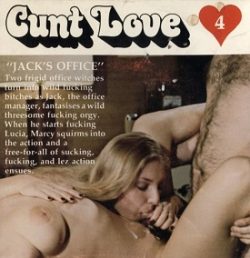 Cunt Love 4 – Jack's Office. US produced and published 8mm color sex loop series. Cunt Love. Threesome sex (2f, m).
Sex office, Director, Sexy girls, Brunette, Sexy ass, Small tits, Hairy pussy, Blowjob, Straight sex.
Featuring Candida Royalle, Beth Ruberman and Keith Erickson.
Females ID by Ajit Parkash and Krackerjackdk.
Two versions available.