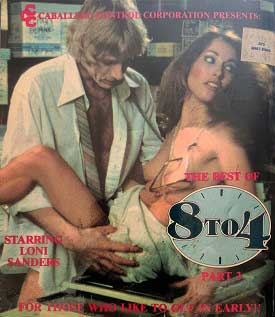 The Best Of 8 To 4 (part 3). Featuring Loni Sanders, Tigr (AKA Chelsea Manchester) and Jesse Adams.
Caballero Control Corporation, USA produced 8mm hardcore sex loop, 1981. Threesome sex (2 girls – 1 guy).
Sexy girls, Small tits, Editing room, Hairy pussy, Blowjob, Sexy ass, Sex from behind, Pussy licking, Straight sex.
* Loop footage part of adult feature film: 8 to 4 (1981)
8 To 4, part 3. Jesie Adams enters the Xerox room to make copies.
There he finds the pretty Loni Sanders and decides he'd rather make her instead. Tigr walks in and it's three on a copy machine.
Size: 370Mb
Type: mp4
Duration: 00:11:23
Resolution: 1024 x 768