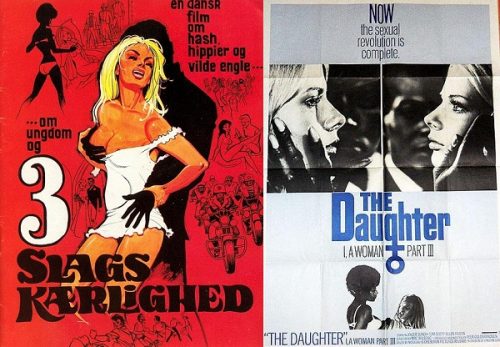 The Daughter I, a Woman Part III (1970)
Cast: Gunbritt Öhrström, Inger Sundh, Klaus Pagh, Tom Scott, Ellen Faison, Søren Strømberg, Bent Warburg, Helli Louise, Susanne Jagd, Tove Maës, Tove Bang.
Director: Mac Ahlberg
Writer: Peer Guldbrandsen
Description: Birthe, a 17-year-old and sexually inexperienced girl arriving home from boarding school to find her mother Siv having sex with a man. Traumatized, she flees the scene and ends up in a hippie coffee house. She smokes hashish, engages in lesbianism and has sex with a black American medical student. Exotic dancers, Hell's Angels and other colorful characters are included in the young girls sexual awakening.
Country: Denmark