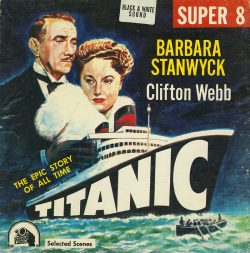 Titanic (1953). US produced, 1953. 20th Century Fox. Black and white film footage. Featuring Clifton Webb, Barbara Stanwyck, Robert Wagner. Film directed by Jean Negulesco. Trailer.
Classic, 8mm film, super 8, softcore, history, drama, romance, iceberg, ship, titanic, disaster, panic.
Unhappily married and uncomfortable with life among the British upper crust, Julia Sturges takes her two children and boards the Titanic for America. Her husband Richard also arranges passage on the doomed luxury liner in order to let him have custody of their two children. Their problems soon seem minor when the ship hits an iceberg.
Size: 12.4 Mb
Type: mp4
Duration: 00:02:30
Resolution: 640 x 480