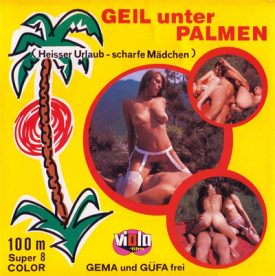 Viola Video – Geil Unter Palmen. AKA Horny under Palm Trees. A Viola Video film. 100 meter. Super 8 Color.
Color sex film, featuring Hannelore Lust, Uschi Karnat and Bernd Kruger. Germany published. Threesome Sex (2 girls – 1 guy).
Classic, 8mm Film, Sexy Girls, Hot Body, Skinny, Outdoor Sex, Lesbian, Blowjob, Hardcore Sex. With audio.
Size: 235Mb
Type: avi
Duration: 00:16:52
Resolution: 768 x 576