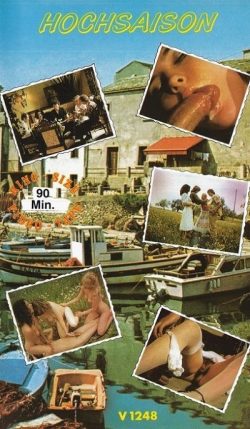 Wara Video V1248 – Hochsaison. Wara Video VHS. Germany published film.
Featuring: Christine Black, Gina Janssen, Margitta Hofer, Monika Sandmayr, Jürgen Bigalke. Sexy girls. Mature. Hairy pussy. Big tits. Lesbian. Straight sex. Facials.
Also known as:
Portugiesische Feigen (1982)
Inquietudine morbosa di una moglie (Italy)
Petits slips à croquer (France)
Christine Black has sex with her boyfriend on a repulsive green bed. Then she flies off south on holiday with Gina Janssen. We see them wandering round the resort. Then abruptly, with another girl, accosting a man in a field. Gina does not get involved in any h/c but she is in the foursome.
Size: 1.06Gb
Type: avi
Duration: 01:13:14
Resolution: 720 x 576