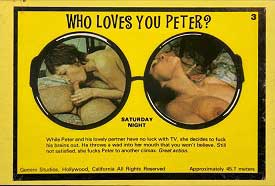 Who Loves You Peter 3 – Saturday Night. Twosome sex (1 girl – 1 guy).
U.S. produced 8mm color sex film. Featuring Any Mathieu (AKA Anything Goes) and unknown guy.
Sexy brunette, Short hairy, Bedroom settings, Small tits, Hairy pussy, Blowjob, Sex from behind, Cum-shot, Straight sex.
* AKA Butterfly 8 (same version)
3 Saturday Night. While Peter and his lovely partner have no luck with TV, she decides to fuck his brains out.
He throws a wad into her mouth that you won't believe.
Still not satisfied, she fucks Peter to another climax. Great action.
Size: 135Mb
Type: mp4
Duration: 00:07:37
Resolution: 768 x 576