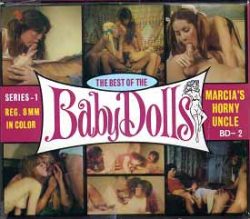 Baby Dolls 2 – Marcia's Horny Uncle. The Best of the Baby Dolls. Series 1.
Baby Dolls In color. Classic 8mm color sex film, featuring Dorothy LeMay, Sharon Kane and Lee LeMay. U.S.A.
Sexy girls, Blonde, Hot body, Living room sex, Hairy pussy, Blowjob, Straight sex, Facial.
* First version: Marcia's Horny Uncle
* Third version: Marcia's Horny Uncle
#2 MARCIA'S HORNY UNCLE 2. After Marcia tells Betsy that her horny uncle wants to get some-thing straight between them, the hot, little dolls take matters into their own hands and lips!
They get him out of his clothes and into something he never expected. It's a licking and loving session he won't soon forget!
Size: 143Mb
Type: mp4
Duration: 00:05:46
Resolution: 768 x 576