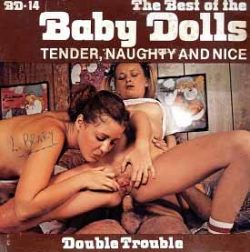 Baby Dolls 14 – Double Trouble. Tender, Naughty and Nice.
Baby Dolls 8mm hardcore sex loop, featuring Crystal Dawn, Hillary Summers and Turk Lyon.
Classic U.S.A. produced and published sex film, 1970s. Threesome sex (2 girls – 1 guy).
Sexy girls, Hot body, Skinny, Blonde, Bedroom settings, Hairy pussy, Blowjob, Anal sex, Straight sex, Facial.