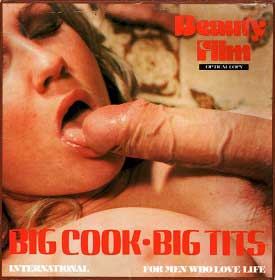 Beauty Film 1425 – Big Cock – Big Tits BF 1425. AKA Room Service Orgy BF 2425.
Beauty 8mm hardcore sex film, re-published by Color Climax Corporation. Denmark, 1970s.
Featuring Stevie Taylor, unknown guy and John English. Sexy busty girl, Big tits, Big cock, Threesome, Chef, Blowjob, Room service, Hairy, Straight sex.

1425
Big Cock – Big Tits
. A young, blonde girl with big tits is sitting in her hotel room looking at a magazine for men.
She begins to get excited and asks the hotel porter about massage facilities.
The young porter tells her about the chef, who gives special massage. His cock is as big as a horse's and she is a bit shocked when he shows her his enormous weapon.
Both men fuck her and when she wanks the big one, she has to use two hands! He makes her suck him and when he screws her, he almost splits her wet pussy.
Finally he fucks her between her beautiful breasts, so his sperm shoots all over her while she screams with pleasure.
Size: 157Mb
Type: mp4
Duration: 00:06:41
Resolution: 768 x 576
Size: 258Mb
Type: mp4
Duration: 00:10:31
Resolution: 768 x 576