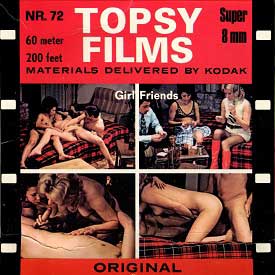 Topsy Films 72 – Girl Friends. 2 girls – 1 man, featuring Ky Sen.
TOPSY FORLAGET. 60 meter. 200 feet. Super 8mm danish vintage color sex loop, 1970s.
Threesome sex, Sexy girls, Oriental, Brunette, Small tits, Mature, Hairy pussy, Pussy licking, Lesbian sex, Straight sex.
72 Girl Friends. A Japanese beauty and a blond sweetie are playing strip-poker with a fellow.
At length all their clothes have fallen, and they begin fucking, sucking and licking with variations galore.
The fellow lets his cock spurt and the girls lick up the warm sperm.
Size: 231Mb
Type: mp4
Duration: 00:09:15
Resolution: 768 x 576
Size: 328Mb
Type: mp4
Duration: 00:10:46
Resolution: 768 x 576