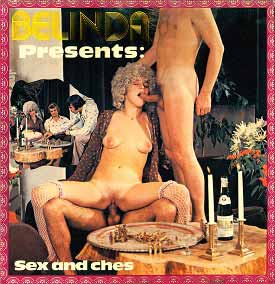 Belinda Film 4 – Sex and Ches. AKA Schach Matt.
Belinda Film 8mm color sex loop. Belinda prasentiert.
Erotica Film. Dutch published, Holland. Unknown cast. Threesome sex (f, 2m).
Sexy girl, Blonde, Hot body, Hairy pussy, Bedroom settings, Blowjob, Straight sex, Cum-shot, Facial.
4 Sex and Ches. A attractive woman looks bored on to her husband who is playing chess with a friend.
All of a sudden, her hand disappears in the fly of the friend and she isn't boring anymore.
When her husband gives the friend permission to fuck her the pleasure is completed.
This movie is full of surprising stands and extreme close ups of excellent trio 'work.
Size: 162Mb
Type: mp4
Duration: 00:08:11
Resolution: 768 x 576
Size: 276Mb
Type: mp4
Duration: 00:08:12
Resolution: 768 x 576