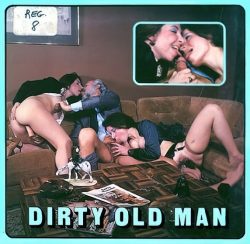 Continental Classics C108 – Dirty Old Man. US produced 8mm vintage sex loop. Threesome sex, Sexy girls, Brunette, Skinny, Hairy pussy, Old man, Blowjob, Straight sex, Facial.
Continental Classics "C" and Swedish Collection "S" loop series are related and likely were published by the same company.
Second version: Dirty Old Man
Film ID by ascot 23
George, a horny old man, goes shopping for some fresh young meat. In the park he picks up two likely prospects with the old dildo-in-the-sock-trick.
These girls are horny, and can't wait to get back to his apartment. Once there, they get right into it.
The old guy really digs chicks under 60, and he gives his all for these two. He fucks Anna as Joyce sucks his nuts, and dips it in both hot honeys before giving his sperm up to a double blow job.
Size: 224Mb
Type: mp4
Duration: 00:08:09
Resolution: 768 x 576