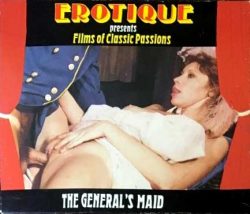 Erotique – Films Of Classic Passions – The General's Maid. First posted as: The General's Maid – Phaedra Grant loop.
Erotique U.S.A. produced 8mm color sex loop, featuring Phaedra Grant and John Leslie. Victorian esque outfits.
Twosome sex (f, m). Sexy girl, Mature, Hot Body, big tits, Hairy pussy, Blowjob, Straight sex, Facial.
Loop ID found, thanks to FLBMAC31 for helping out.