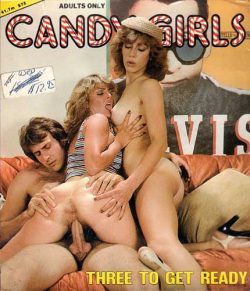 Candy Girls 133 – Three To Get Ready. Candy Girls 8mm hardcore sex film, featuring Rhonda Jo Petty, Shantell Day? and unknown white guy.
US produced film footage. Threesome sex (2f, m).
Sexy girls, Mature, Hot body, Skinny, Shaved, Hairy pussy, Blowjob, Straight sex, Facial.
As Andrew VOYTEK mentioned, the slim model could be Tamara Longley and not Shantell Day?