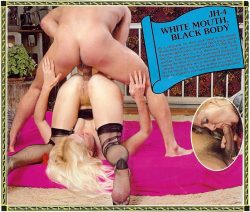 John Holmes JH 4 – White Mouth Black Body. John Holmes International. Classic 8mm hardcore sex film, featuring Cris Cassidy and Billy Dee.
US produced and published. Threesome sex (wf, 2bm). Anal vintage sex themed film.
Sexy blonde girl, Interracial sex, Mature, Hot body, Hairy pussy, Blowjob, Sexy ass, Anal, Hardcore sex, Straight, Facial.
Two versions available.