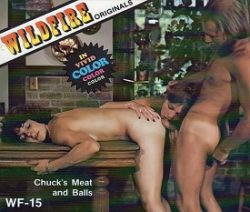 Wildfire 15 – Chuck's Meat And Balls. Classic 8mm color sex loop, featuring Marlene Munroe, Maureen Spring and Gary Eberhard.
Wildfire Originals US produced film series. Threesome sex.
Sexy mature girls, Brunette, Skinny, Small tits, Sexy ass, Hairy pussy, Blowjob, Sex from behind, Lesbian, Straight sex, Facial.
Two versions available.