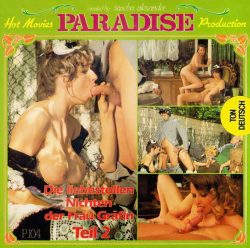 Paradise P104 – Die liebestollen Nichten der Frau Gräfin Teil 2. AKA Sexy Sisters.
Paradise The lovely Nieces of the Countess Part 2. Germany filmed and published.
Classic 8mm European hardcore sex film, featuring Catherine Tailleferre and Sylvia Swiadlek.
Classic, 8mm film, Gardner, Room maids, Sexy girls, Mature, Outdoor sex, Blowjob, Hairy pussy, Blowjob, Straight sex.
First part: Paradise P103
Read more « DOWNLOAD "Paradise P104 – Die liebestollen Nichten der Frau Gräfin Teil 2" »