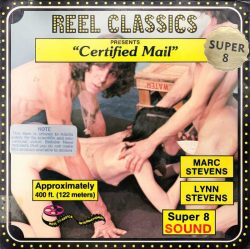 Reel Classics 106 – Certified Mail. Super 8. Reel Classics presents Certified Mail.
Reel Classics, featuring Lynn Stevens, Sandy Fox, Ultramax, Don Allen, Jack Webb, Marc Stevens and Steve Blackwell.
Classic 8mm hardcore sex loop, US produced and published.
Short version of full length feature film: Certified Mail (1974).
Group sex, Sexy girls, Mature, Interracial sex, Couple, Hairy pussy, Blowjob, Pussy licking, Anal sex, Straight, Facial.