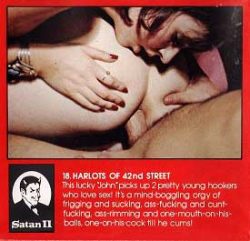 HD Satan 18 – Harlots Of 42nd Street. Quality Film Products.
Satan: A blazing inferno of sexual enjoyment: Flaming-hot. Fucking. Sucking. Reaming and ramming!.
Featuring Heather Ellis, unknown girl and Alan Marlow. US published and produced.
Threesome sex, Sexy girls, Brunette, Hot body, Skinny, Hairy pussy, Sex from behind, Blowjob, Straight sex, Facial.