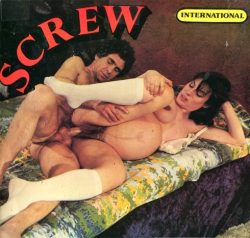 Screw 59 – The Ninth Month. Screw Presents. Screw International. US produced 8mm hardcore sex loop series, related to "Club" and "Hustler".
Featuring Bobby Astyr and Susaye London. Twosome sex (f, m).
Classic, 8mm sex film, Sexy mature girl, Brunette, Hairy pussy, Sex from behind, Bedroom settings, Blowjob, Straightex, Facial.
Loop footage was used by Elfra Film as: Helga Und Der Staubsauger Fritze