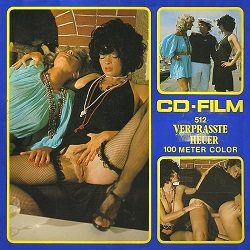 Germany CD-Film 100 meter. Super 8mm color sex film, with audio. Featuring Karin Hofmann, Uschi Karnat and unknown male. CD-Film 512 – Verprasste Heuer. Threesome sex.
Classic, 8mm film, fetish, outdoor meeting, sexy girls, hot body, busty, hairy pussy, blowjob, hardcore sex. With audio. Good video quality.
Two harbor prostitutes haul a sailor on land. With blow-jobs and fucking they rid him of his very last drops of sperm and lighten his purse as well. Easy come, easy go.
Size: 200 Mb
Type: mp4
Duration: 00:13:06
Resolution: 640 x 480