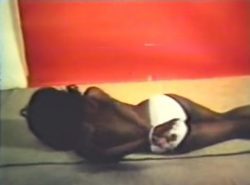 Classic Bondage Loops Pack. Classic Bondage Loops in color. Bondage Loops pack. Each clip has a single download link with his own title, to be easier to identify. Screenshots are available bellow for all the clips in the list.
US produced. Classic. 8mm Film. Bondage. Spanking. Sexy Girls. Mature. Softcore.
Some titles may be offensive, the content has light/softcore bondage. Fotage is related to House of Milan (H.O.M.) and Tristar Production.
Including
New content »
Red Hot Captive
Red-Hot B and D
Old content »
A Slave to his Pleasure
Appointment for Bondage
Barnyard Bondage
Bitches Just Reward
Black Bondage short film
Bound and Impaled
Bound in the Woods
Breasts Bondage
Erotic Denial
Final Settlement
Girl on Girl Bondage
Hired Hand
Leather-Bound Slavegirl
Nina Never Knew
Red Hot Captive
Red-Hot B and D
The Cure
The Pickup
The Spy's Mistake
The Ties that Bind
Trapped!
Unknown 2 to 8