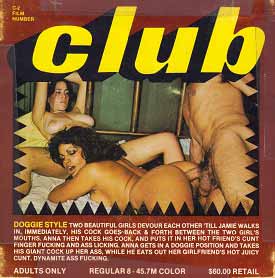 Club Film 2 – Doggie Style. C-2 – Adults Only. Regular 8 – 45.7 meter – Color.
Classic 8mm hardcore sex film, featuring Vanessa Del Rio, unknown girl and Jamie Gillis. U.S.A., 1970s.
Brunette, Sexy girls, Busty, Mature, Big tits, Hairy pussy, Bedroom sex, Blowjob, Sex from behind, Anal, Straight sex, Facial.
2 Doggie Style. Two beautiful girls devour each other 'till Jamie walks in.
Immediately, his cock goes back & forth between the two girls mouths. Anna then takes his cock, and puts it in her hot friend's cunt finger fucking and ass fucking.
Anna gets in a doggy position and takes his giant cock up her ass, while he eats her out her girlfriend's hot juicy cunt. Dynamite Ass Fucking.
Size: 185Mb
Type: mp4
Duration: 00:10:20
Resolution: 768 x 576
Size: 246Mb
Type: mp4
Duration: 00:08:06
Resolution: 768 x 576