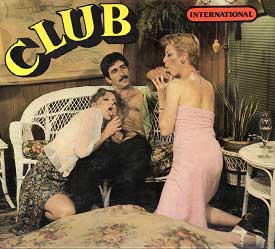 Club Film 29 – Toast to Love. Classic 8mm color hardcore sex film, featuring Juliet Anderson, Maureen Spring and Angelo Rivera.
Club series. Related to Hustler and Screw. Threesome sex (2f, 1m).
Classic, 8mm sex film, Sexy mature girls, Skinny, Hot body, Hairy pussy, Blowjob, Straight sex, Anal, Facial.
29 Toast to Love. Janet and Sandra, two totally liberated California swingers, have heard rumors of Jose's marvelous twelve inch cock.
After getting him home Sandra wastes no time in getting her hot pussy off, while Janet elects to use Jose's monstrous tool up her tight tiny bung hole.
Jose shares his come with both girls.
Size: 180Mb
Type: mp4
Duration: 00:06:37
Resolution: 768 x 576