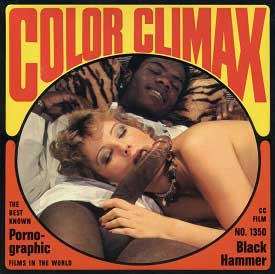 Color Climax Film 1350 – Black Hammer. Group sex (1 girl – 2 guys).
Danish super 8mm Color Climax sex loop, featuring Karin and Bill the Bull. 1979.
Interracial sex, Sexy girl, Skinny, Blonde, Hot body, Living room settings, Hairy pussy, Big cock, Straight sex, Blowjob, Facial.
1350 Black Hammer. A young and very happy Austrian couple arrive in their hotel room after a pleasant trip.
Thrilled and ex-cited at having arrived at their destination, they undress and have a solid fuck. Later, needing a refreshment, It turns out that the waiter sent by room service is a very charming black guy, whose cock makes a fantastic bulge in his trousers The young wife feels it, exclaiming: "Christ, this prick Is an absolute monster!"
She grabs at it, pulling out his immense tool … Sucking at it with great delight, she lets her husband take some pictures.
Their sexy holidays are off to a fine start! She is shafted again and again, and finally she simultaneously sucks both off I
Size: 299Mb
Type: mp4
Duration: 00:07:58
Resolution: 800 x 600