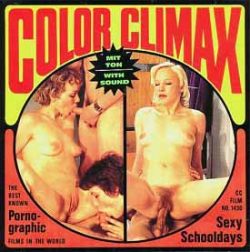 HD Color Climax Film 1430 – Sexy Schooldays. Danish produced, 1979.
Color Climax series 8mm hardcore sex loop, featuring Britt, Karin and Uschi.
Sexy girls, Teens, Schoolgirls, Blonde, Brunette, Hot body, Bedroom settings, Hairy pussy, Lesbian sex, Blowjob, Straight sex, Facial.
* Same source for both versions
#1430 Sexy Schooldays. Three well hung lads eavesdrop on their female companions in the room next door.
When they overhear that one of the girls has just had her cunt shaved, the trio of horny adolescents embark on a night raid on the female dorm.
A pillow fight turns into an orgy of finger-fucking, sucking and copious coming as the boys get more than their curiosity satisfied.
This film is a genuine full color example of do-it-yourself sex education.
Size: 259Mb
Type: mp4
Duration: 00:13:37
Resolution: 768 x 576
Size: 423Mb
Type: mp4
Duration: 00:13:34
Resolution: 1024 x 768