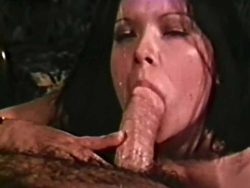 Diamond Collection 242 – Bicycle Lover. Twosome sex (1 girl – 1 guy).
US produced 8mm hardcore sex film, featuring unknown girl and Don Fernando.
Twosome sex, Sexy brunette, Busty, Big tits, Couch sex, Hairy pussy, Blowjob, Straight sex, Facial.
242 Bicycle Lover. Princess loves riding her bike. She adores the feel of that narrow seat between her legs as she pumps from side to side.
She likes the breeze whipping by her long, flowing, auburn hair. But mostly she likes the men who watch her as she rides over to her boyfriend's house.
She knows they're watching her tight shorts as she dismounts from the now damp seat, walking the bike up to the door and going inside and going inside, ready for anything!
Size: 158Mb
Type: mp4
Duration: 00:08:04
Resolution: 768 x 576