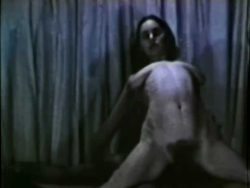 Diamond Collection 246 – Lips Of Fire.
US produced 8mm hardcore sex film, 1980s. Twosome sex (1 girl – 1 guy).
Sexy girl, Brunette, Big tits, Bedroom settings, Hairy pussy, Blowjob, Straight sex, Body cum.
246 Lips Of Fire. Her body is a work of all and Milt wants to put his signature on her bush.
She tantalizes him beyond belief with her ruby red lips and those long eyelashes blinking at him enticingly.
And the way she walks, with the "come to me" wiggle in her tail and those slowly swaying hips! He can take no more.
He holds her in his arms and she melts into his embrace! Who says artists have to suffer!
Size: 133Mb
Type: mp4
Duration: 00:07:23
Resolution: 768 x 576