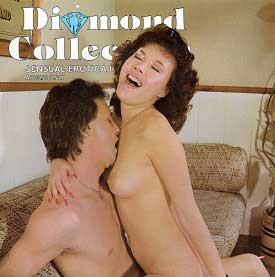 Diamond Collection 326 – Executive Suck-Retary. AKA Executive Secretary.
US produced 8mm hardcore color sex film series: Diamond Collection. Featuring Kristara Barrington and Kirk Wilder.
Sensual Erotica in VIVID COLOR. Twosome sex (1 girl – 1 guy).
Office settings, Sexy girl, Oriental, Brunette, Hot body, Hairy pussy, Blowjob, Pussy licking, Straight sex.
326 Executive Suck-Retary. One of the most magnificent creatures ever to flee the Orient,
Ravishing Kristara Barrington has no trouble landing a lob as executive sexretary to an industrial tycoon. He soon finds out, however, that she can't spell and her typing is rotten.
He doesn't fire her, though, because he realizes what other assets she has!
Size: 390Mb
Type: mp4
Duration: 00:19:23
Resolution: 768 x 576