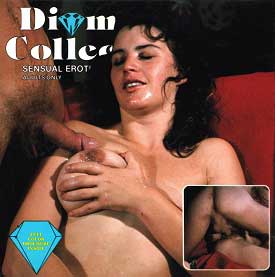 Diamond Collection 173 – Cookie Girl.
Classic 8mm color hardcore sex loop, featuring unknown girl and Jesse Adams. USA produced 1970s.
Classic, 8mm film, Twosome sex, Busty girl, Brunette, Couch sex, Hairy pussy, Blowjob, Straight sex, Facial.
173 Cookie Girl. Bob can't believe his luck when young, lusty Sue drops by to sell him some cookies.
Sue's little skirt quickly disappears and reveals her tender, untouched pussy begging to be eaten by the experienced Bob.
Her lifted desires bring her around to her first blowjob – his cock finds heaven and demands to stay.
Sue's childhood is lost, as well as her cherry!
Size: 356Mb
Type: mp4
Duration: 00:18:01
Resolution: 768 x 576
Size: 292Mb
Type: mp4
Duration: 00:08:07
Resolution: 768 x 576