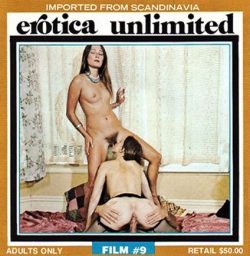 Erotica Unlimited Film 9 – He Turned The Tables. Erotica Unlimited 8mm hardcore sex loop, featuring two unknown girls and John Seeman. US produced and published. Threesome Sex (2f, m).
Threesome sex, Light bondage, Sexy girls, Hot body, Hairy pussy, Sexy lingerie, Lesbian sex, Pussy licking, Blowjob, Sexy ass, Straight sex, Facial.
Two chicks do a bondage trip on a guy and force him at knife point to eat and screw his way to freedom. He feasts and they droll – so will you!
Size: 264Mb
Type: mp4
Duration: 00:09:12
Resolution: 960 x 540