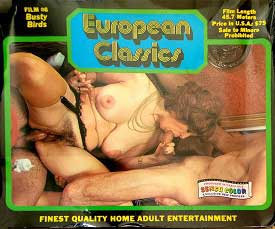 European Classics Film #6 – Busty Birds. Finest quality home adult entertainment – 45.7 meters.
Featuring Nathalie Morin, Catherine Tailleferre and three unknown guys. U.S.A. published loop.
Group sex, Mature girls, Busty, Big tits, Sexy ass, Hairy pussy, Straight sex, Facial.
* Loop footage also used for: Color Climax 1316 (longer version).
6 Busty Birds. Two of the biggest sets of tits we have ever seen are being watched on stag screen by two guys and their dates.
Soon the girls become indignant at the guys ogling at the movie, and they display their own magnificent pairs.
One thing leads to another, and when that movie finally ends no one notices it because the guys have discovered that a bird in hand is better than two on the screen,
Size: 99Mb
Type: mp4
Duration: 00:05:32
Resolution: 768 x 576
Size: 123Mb
Type: mp4
Duration: 00:07:40
Resolution: 768 x 576