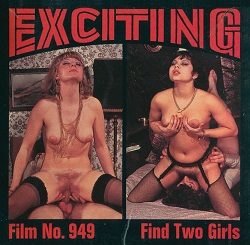 Exciting Film 949 – Find Two Girls. Exciting Film 8mm hardcore sex loop series by Color Climax Corporation. Danish produced and published, 1977.
Foursome Sex, Sexy Ass, Blonde, Brunette, Fetish, Legal Teens, Busty, Skinny, Blojob, Nice Body, Handjob, Hairy, Hardcore Sex. Super 8mm color hardcore sex film, 45 meter. With audio.
Picking up girls is no problem for Per or Jan. Neither is, for that matter, getting them home! The two girls follow very willingly. After a little innocent chat about "school-days" and a few kisses for starters, the more important part of the party takes place – in the bedroom! Naturally the usual deviations, swapping, cunt-licking and cock-sucking are taken advantage of.
As far as the fucking is concerned, the girls favor the straddling position and the film closes with sperm being squirted onto both faces and stomachs.
Size: 140Mb
Type: avi
Duration: 00:06:43
Resolution: 854 x 480