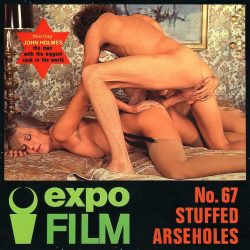 Expo Film 67 – Stuffed Arseholes. Expo Film 8mm hardcore sex loop, by Color Climax Corporation.
Featuring Ulrike and John Holmes. Danish published, 1977. Threesome Sex (2f, m).
Sexy Busty Girls, Mature, Living room Settings, Hairy Pussy, Pussy licking, Blowjob, Big Tits, Anal, Hardcore Sex, Facial.
Loop footage also used for: Danish Hard-core Film 599 and Swedish Erotica 87
This movie shows that being a book salesman, doesn't have to be boring! John Holmes shows a beautiful volume of erotica, to a couple of incredibly well stacked, prospective clients.
He proves to the blondes that the prick shown within the book, isn't a figment of the artist's imagination, by whipping out his own monstrous tool.
The girls of course are turned on to it at once. They try it in their mouths, cunts and arse-holes. Lots of big bouncing tits and gushing sperm. A very sexy film.
Size: 143Mb
Type: mp4
Duration: 00:08:04
Resolution: 854 x 480