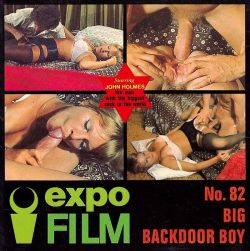 HD Expo Film 82 – Big Backdoor Boy. Color Climax Corporation. Danish 8mm vintage sex loop, featuring unknown girl and John Holmes.
Danish produced?, Danish published, 1977.
Twosome sex, Sexy girl, Blonde, Hot body, Hairy pussy, Sexy ass, Blowjob, Big Cock, Anal sex, Straight, Facial.
Published in US as: Swedish Erotica 21
"We'll meet you in the amusement park," John Holmes and his mate told their two girls. Later John takes his blonde back to his flat.
Her black nylon stockings and sexy knickers drive him crazy! He decides to enter her back entrance and shafts her with all the energy he can muster.
When he withdraws, there is only one step from arse to mouth! Normally J.H. releases only sperm but in this film he also relieves himself, of the "wines" of his passion!
Size: 241Mb
Type: mp4
Duration: 00:07:51
Resolution: 1280 x 720